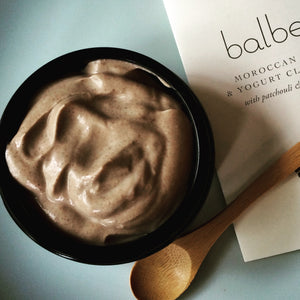 Moroccan Clay & Yogurt Cleanser with Patchouli & Geranium
Regular price $48.00 Sale
A Balbec Clay & Yogurt Cleanser
Rhassoul or Moroccan clay has slightly pronounced exfoliant texture. It tones and softens the skin, improving clarity and elasticity, and is good choice for treating blackheads and controlling excessive oil. Probiotic-rich organic yogurt softens and makes this exfoliating cleanser especially creamy.
Antiinflammatory patchouli and geranium balance the skin by evening out sebum production and treating acne.  Geranium tones, stimulates the lymph system and aids with cell regeneration.
Organic sulfur is anti-inflammatory and softening, hornbeam flower essence refreshes the skin and crab apple flower essence is cleansing. 
Perfect for patchouli lovers and for those who really want to feel their exfoliation.
Skin type: All skin types, but especially suitable for skin that is too dry or too oily. Use two or three times a week.
Result: A soft, exfoliating cleanse that leaves skin hydrated; minimized pores; a bright and glowing complexion
Scent Profile:  Deep, earthy, uplifting green.
How to use: With the bamboo spoon provided, take a spoonful of the cleanser and re-refrigerate the jar.  For a quick cleanse, massage onto the skin for one minute in small outward circles. Rinse thoroughly. To use as as mask, leave cleanser on skin longer and rinse thoroughly.
Ingredients: Moroccan Clay**, Yogurt*, Raw Honey, Grapeseed Oil**, Patchouli**, Geranium*, Organic Sulfur (Methylsulfonylmethane)*, Hornbeam flower essence, Crab Apple flower essence. organic* wildcrafted**
Guaranteed fresh for six weeks upon arrival. Please refrigerate and enjoy.