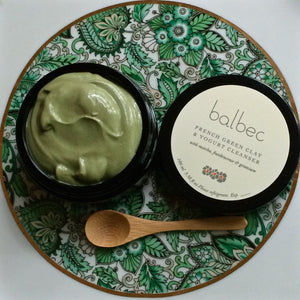 French Green Clay with Matcha, Frankincense, & Geranium
Regular price $51.00 Sale
A Balbec Clay & Yogurt Cleanser
Montmorillonite French Green Clay clarifies and tones while detoxifying and nourishing the skin with a host of nutritious minerals. Probiotic-rich organic yogurt softens and gently exfoliates  while protecting the skin microbiome. Antioxidant matcha counters free radicals from pollution and excessive sun exposure. Frankincense and Geranium stimulate the renewal of skin cells and balance the skin.
Organic sulfur is anti-inflammatory and softening, hornbeam flower essence refreshes the skin and crab apple flower essence is cleansing. 
Skin type: This peach of a cleanser exerts its charm on all skin types. Ideal for everyday use.
Result: Beautifully cleansed skin that is soft and hydrated; minimized pores; a bright and glowing complexion
Scent profile: A fresh, deep and woodsy green floral, with a hint of incense and grassy and sweet notes from matcha.
Ingredients: French Green Clay**, Yogurt*, Raw Honey, Grapeseed Oil**, Matcha*, Frakincense**, Geranium*, Organic Sulfur (Methylsulfonylmethane)*, Hornbeam flower essence, Crab Apple flower essence. (Essences are preserved in alcohol)    *organic **wildcrafted
Guaranteed fresh for six weeks upon arrival. Please refrigerate and enjoy.