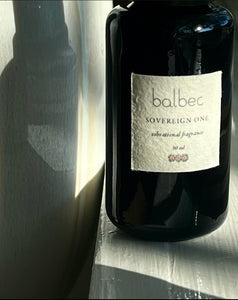 Vibrational Fragrance Sovereign One
Regular price $75.00 Sale
Speaking two languages at once, flower essences and essential oils harmoniously deliver frequencies of sovereignty in two octaves. 
The fragrance: An apricoty osmanthus with a pink lotus and rose heart, held by orris, oakmoss, aged patchouli and frankincense. Neroli crowns the top with the clear and cool eyes of petitgrain and hinoki gazing forth. 
Essential oils deliver a three-dimensional sensory indication for the higher octave stream of flower essences: Iris, wild oat, clematis, cerato, chestnut bud, rose, & centaury
The frequencies assist with: grounding and enlivening connection to the present, aligning with one's internal voice and purpose, exploring with courage and stability, and living creatively and in harmony with the flow of life.
Apply to recommended acupoints or simply spray to hair, skin, and into the room.  For detailed preparation and experience suggestions see: directions for use. 
Ingredients:  Essential Oils: oakmoss, frankincense**, patchouli*, orris, osmanthus, damascena rose*, pink lotus, neroli*, hinoki, petitgrain*.  *organic **wildcrafted
Flower Essences: ***iris, wild oat, clematis, cerato, chestnut bud, ***rose, centaury, 
***Flower essences Iris and Rose are Balbec made in spring water according to Edward Bach's methods.

Spring water, Organic grape alcohol