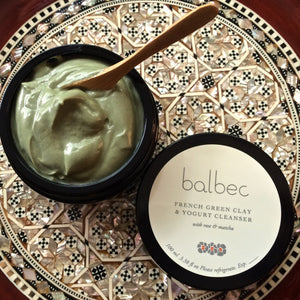 French Green Clay & Yogurt Cleanser with Rose & Matcha
Regular price $120.00 Sale
A Balbec Clay & Yogurt Cleanser
Montmorillonite French Green Clay clarifies and tones while detoxifying and nourishing the skin with a host of nutritious minerals. Probiotic-rich organic yogurt softens and gently exfoliates the skin while protecting the skin microbiome. Matcha, brimming with catechins chimes in as an unparalleled antioxidant.
Pure organic rose otto is tonic, anti-oxidant, hydrating, and a regenerating gift for the complexion.
Organic sulfur is anti-inflammatory and softening, hornbeam flower essence refreshes the skin and crab apple flower essence is cleansing. 
Skin type:  An excellent choice for dull or aging skins or for those who adore rose. Ideal for everyday use.
Result: Beautifully cleansed skin that is soft and hydrated; minimized pores; a refreshed glowing complexion.   
Scent profile: uplifting, floral, sweet, with grassy notes from the matcha.
How to use: With the bamboo spoon provided, take a spoonful of the cleanser and re-refrigerate the jar.  For a quick cleanse, massage onto the skin for one minute in small outward circles. Rinse thoroughly. To use as as mask, leave cleanser on skin longer and rinse thoroughly.
Ingredients: French Green Clay**, Yogurt*, Raw Honey, Grapeseed Oil**, Matcha*, Rose*,  Organic Sulfur (Methylsulfonylmethane)*, Hornbeam flower essence, Crab Apple flower essence. (Essences are preserved in alcohol)  *organic **wildcrafted
Guaranteed fresh for six weeks upon arrival. Please refrigerate and enjoy.